Create a delicate beaded wind chime or suncatcher all on your own, the string with an ice-cracked crystal pendant is required. Making whimsical tree jewelry with various beads would be just like making garden stakes. A gorgeous gift for Christmas, birthdays, anniversaries, or any special occasion.
DIY Suncatcher Handmade Decorations Cracked Ice Glass Bubble Window Ornament Sun Catcher String Ice Crackle Decoration
The raw materials for making a beaded suncatcher:
★Material: Glass
★Size: String: 50cm/Pendant diameter: 3cm
★Note: Carefully mind the specification of the options.
With 10 random beads - A finished beaded suncatcher comes with 10 random colorful beads
Only the pendant: The raw chain & pendant string
The beads chain would be difficult to bond, try with a little more patience or a proper tool will be better.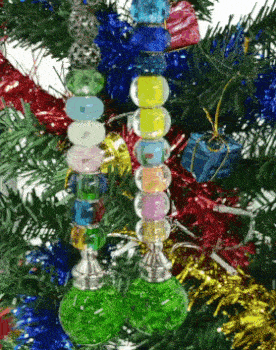 ★ Fun of handmade
Making your unique DIY crafts would be so funny, the raw material is suitable for making hanging sun catchers or other handicrafts.
★ Delicate floral decoration
This gorgeous crackle design would bring a vivid look of nature to your garden. It can embellish your greens, floral bushes, and succulent plants.
How to fix a circle with the bead chain: