It's a modern style of wooden animal ornament that is finely crafted. The led light string perfectly set off the delicate silhouette work, and bring a sense of art to your home decor. Animal sculpture for desktop, office table, and nightstand. Exquisite craftsmanship wooden art pieces that would surprise your friends & family.
Animal Sculpture Creative Wood Carving Boxwood Silhouette Lamp Wolf, Bear, Moose, Eagle Tabletop Ornament Hollow Out Wooden Artwork

⭐Material: Boxwood
⭐Size:
Bear: 18cm x 10.5cm x 2.5cm(7.1"x4.1"x1")
Elephants: 19cm x 16cm x 2.5cm(7.5"x6.3"x1"), 11cm x 8cm x 2.5cm(4.3"x3.1"x1")
Eagle: 18cm x 14cm x 2.5cm(7.1"x5.5"x1")
Moose: 18cm x 14cm x 2.5cm(7.1"x5.5"x1")
Horse: 17.5cm x 13.6cm x 2.5cm(6.9"x5.4"x1")
Wolf: 16cm x 14cm x 2.5cm(6.3"x5.5"x1")
T. rex: 18cm x 16cm x 2.5cm(7.1"x6.3"x1")
Triceratops: 22cm x 11cm x 2.5cm(8.7"x4.3"x1")
Northern cardinal: 18cm x 18cm x 3cm(7.1"x7.1"x1.1")
Hummingbird: 18cm x 17cm x 3cm(7.1"x6.6"x1.1")
Butterfly: 23cm x 14cm x 3cm(9"x5.5"x1.1")
⭐Battery: LR44 button cell(included)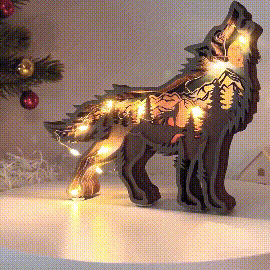 Handcrafted sculpture
This product is consisted of several handmade pieces of silhouette, as it's designed with a shape of a wild animal. The finished sculpture perfectly brings out the scenery of nature.

Specially designed lamp
How beautiful to set up an exquisite animal lamp on your nightstand. The low-energy led light comes with a warm and soft glow and shows off the gorgeous silhouette.

Gorgeous artwork
The different lamp comes with different content of sculpture as each one shows the most natural habitat of the wild animal.